*YOU WILL GET FULL HISTORICAL RECORDS OF YOUR CAR IN SECONDS.
Why do you need an VIC Rego Check?
used cars sold hide a potential issue
cars have been recorded as a write off
mins a vehicle in Australia is stolen
cars under a Takata airbag recall
As a driver, it's your responsibility to ensure that registration is up to date and that a car is safe. A rego check is a simple way to check that a vehicle hasn't previously been in an accident where it was written off.
VicRoads is the Government body responsible for road and traffic safety in the state of Victoria – https://www.vicroads.vic.gov.au/.  You can run a rego check using their site, which houses all the vehicle information for the whole state. Data is collected via numerous channels and stored in the one central place.
Anytime an incident such as speeding or running a red light is recorded, VicRoads will automatically run a check using their database to check that a car is registered.
This simple and easy rego check via the VicRoads Department website will check details such as:
A vehicle's registration status
Compulsory Third Party (CTP) insurance details and expiry date
Registration details – restrictions, expiry date etc.
Vehicle details including – model, transmission and body type
View more articles about VIC Rego Check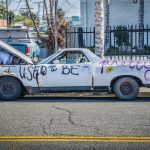 A used car is much more difficult to buy than a new car, so I suggest you do a vicroads rego check before buying When
Read More »